Products
Stair transport systems
Skid effect
The manoeuvring of a corpse on stairs can be one of the most dangerous situations to confront in a job that already has a high percentage of back injuries. It is for this reason that Spencer has developed the Skid system.
The secret of the Skid system lies in an interfacing of belts, integrated in the support structure that have an infinite rotation scheme, which gives a soft sliding action on contact with steps, proportioned with the weight being transported. The constructional geometry allows for the transfer of all the weight onto the two main back wheels, thus allowing them to revolve and move. All Skid models use an innovative technology. They are both light and versatile and present the ergonomic characteristics to guarantee easy use, in even the most difficult situations. Their compact form, when not in use, permit easy storage and transport. The framework produced entirely in aluminium with joints in stainless steel, makes this product durable but at the same time lightweight.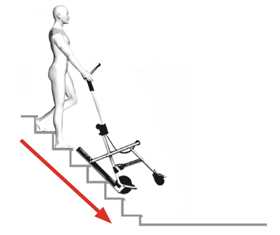 The runners allow for an easy descent and the four inserting wheels increase manoeuvrability on a flat surface.
Skid-E
System for the transport of corpses on stairs
Spencer has for years, concentrated its research and subsequent production on trying to resolve every possible problem that can make the transition from one floor to another impossible, difficult or uncomfortable. The result is a chair that descends the stairs safely and also reduces the effort on behalf of the operators. It can also be used for the transport on flat surfaces due to the presence of four wheels, two of which swivel, and a braking system which enables total stability during loading.
The Skid-E chair is supplied with two polypropylene 50 mm [1.96 in] straps
Weight: 12.5 kg [27.55 lbs]
Skid-E - ZS30001E
[[ecid::954]]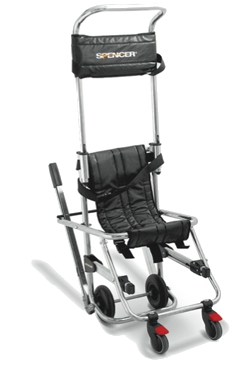 New
LXF
Hot printing
Product
120 x 120 mm [4.72 x 4.72 in]
col 02
min 01
back support