Products
Scoop stretchers and recovery boards
Z 5000
Scoop stretcher

LXF
Engraving
Product
80 x 20 mm [3.14 x 0.78 in]
col 00
min 01
The scoop stretcher allows the operator to raise the corpse without having to move it. The concave surface helps reduce lateral movement. With an external cover of solid aluminium welded to a strong framework of fusible alloys, it is lightweight and folds in half thus reducing obstruction. The automatic safety hooks are integrated into the framework. Handles are present on the entire perimeter thus allowing for easier recoveries and transport. The end of the stretcher (foot end) is telescopic enabling ideal adaptation to the build of corpses. It is also narrower to allow for manoeuvrability even in the most limited of spaces. Z 5000 can be contained in the pick-up box Extratank. It comes complete with three quick-release belts.
Z 5000 adjustable, grey - ZS00400A
Z 5000 adjustable, black - ZS00412A
[[ecid::934]]

Z 5000 adapts in length.

Z 5000 closes for improved storage.
Z 5005
Recovery board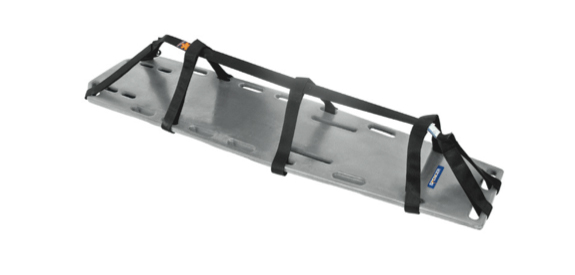 LXF
Built in
Product
150 x 150 mm [5.90 x 5.90 in]
col 03
min 100
Engraving
Product
150 x 150 mm [5.90 x 5.90 in]
col 00
min 01
The necessity to use versatile, resistant, safe and easy to use devices has motivated the design of a recovery board that can offer high performances and durability. A single unit, made in double layered high density polyethylene, easy to clean. With the injection of a special expanded polyurethane it is buoyant and monolithic. The recovery board is particularly resistant to abrasions and it can safely slide on stairs. The handles all around the perimeter offer an improved weight distribution and fixation of the harness system. The distal parts are tapered to improve mobility and for storaging the Z 5005 inside the Extratank. It becomes indispensable during the transfer of the corpse into the coffin. It comes complete with the Z-straps harness system made in polypropylene 50 mm [1.96 in] webbing.
Z 5005 - ZC00100A
Z 5005 Pin complete of pins - ZC00103A
[[ecid::935]]

Made in polyethylene using the double layer technique to provide reliability, durability and easy sanitation.

Tapered in the distal parts for use during the transfer of a body.