Products
Recovery trolleys
Z 9000
Trolley for transportation of corpses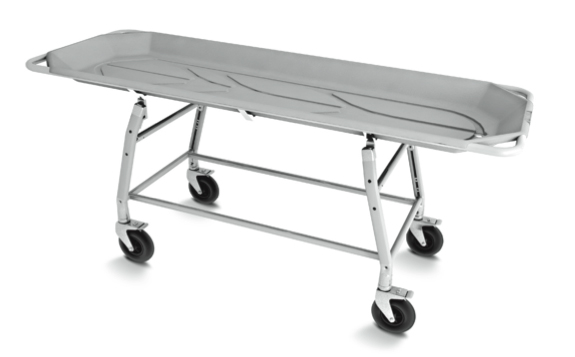 LXF
Pre-spaced decals
Product
100 x 30 mm [3.93 x 1.18 in]
col 01
min 03
back support
Robust, but decisively elegant, this is the solution to all handling requirements, preparation and transport of the body inside the hospital structure or the morgue. All around protection. Exclusive details, strong external lines and a polycarbonate basin with a sloping bottom, which can be used even for the most robust of builds. The framework, realized with edges in grooved aluminium, supports a stainless steel skeleton framework in shockproof material, onto which the exclusive basin is laid out. Radial corners also guarantee excellent sanitizing possibilities.
A niche for the handles was created to reduce obstruction and increase manoeuvrability. Four wheels of generous dimension, complete with positioning brakes, also guarantee transportation on rough ground.
A pleasing shape, stability during both transfer and travelling, practicality and functionality: all in one irresistible structure.

The bottom of the basin has an unprecedented network of drainpipes, to guarantee the outflow of fluids.
[[ecid::936]]
Z 9100
Trolley for transportation of corpses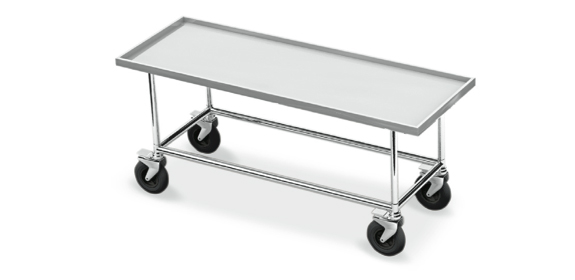 The new frame in welded stainless steel increases the torsion rigidity level (already the absolute top in its category) of the Z 9100 by 5%. The total weight has been decreased by 4 kg. The mass distribution has been maximally optimised and the design has been modified in order to have a better grip distribution. The result is a extraordinary sensation of compactness and solidness, incredible handling and an absolute precision in every path, with the possibility to block integrally all four swivelling wheels in order to make the transfer of the corpse an easier operation. Besides having an improved functionality of the frame, Z 9100 is characterized by a stainless steel basin, with the possibility to insert a draining element.
A robust undercarriage with a special top finish, guarantees easy cleaning and an efficient sanitization. The constructive philosophy guarantees a long lasting performance without costly substitution of components or technical interventions.

Watertight tub with borders in stainless steel.
[[ecid::937]]